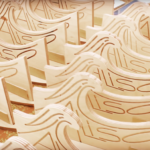 THE 43RD ANNUAL VIC
THANKS TO EVERYONE WHO JOINED US
Competitors from all around the world gathered at Aliso in Laguna Beach.

This year, Lucas Fink (Brazil), the first international Men's Pro Champion was crowned, and Amber Torrealba (originally FL) defended her title for the Women's Professional Division.

We also witnessed Garth Wyckoff announce the VIC for the last year – Thanks Garth!

Aliso Beach was blessed with 2-4 foot waves and clean conditions through both days of competition. With the integration of Live Scoring and a high quality live feed, this year was unique. All spectators and riders were able to access the heat scores and places as they came through, real time.


We greatly appreciate everyone's support and time to make this event so special.